HunchVue: The Collaborative Coding & Video Interviewing Platform for conducting Tech Interviews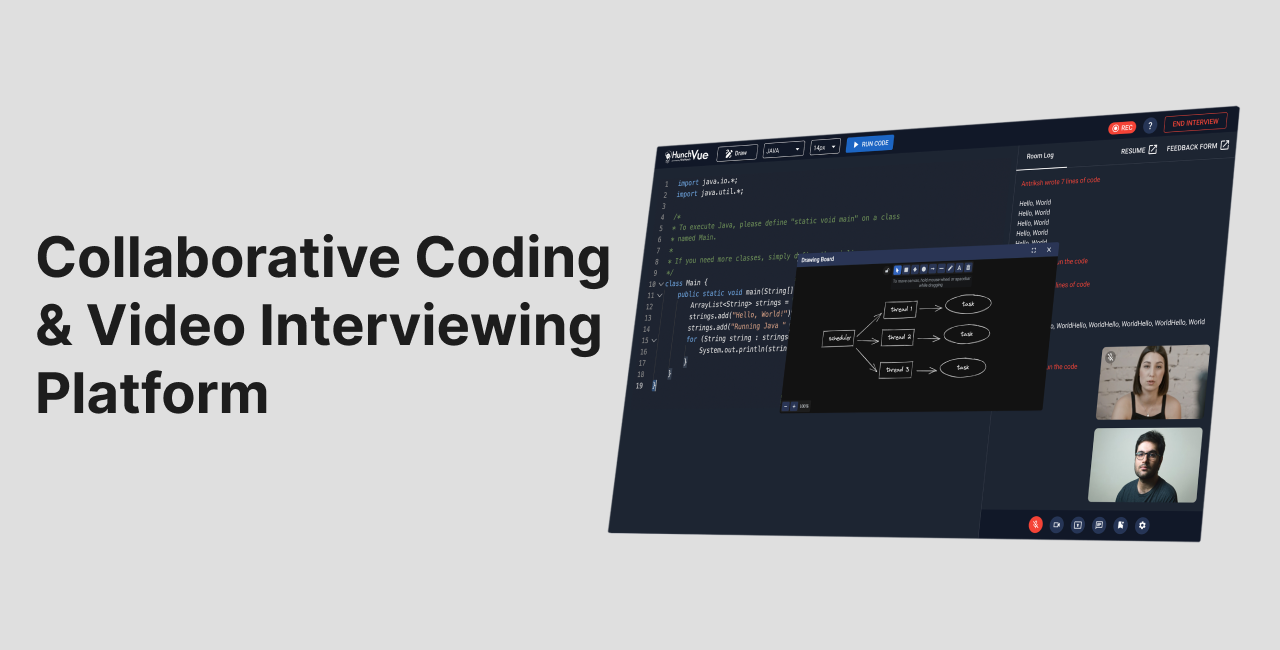 In the world of technical hiring, the interview process can be a daunting experience for both candidates and hiring teams. The traditional process of conducting interviews in person or over the phone can be time-consuming, expensive, and difficult to coordinate. But with HunchVue, a collaborative coding & video Interviewing platform for taking tech interviews, the hiring process just got a whole lot easier.
In this post, we will take a deep dive into HunchVue, exploring its features and benefits, and how it is transforming the technical hiring process for startups.
Challenges in Technical Hiring for Startups
For startups, technical hiring can be a daunting task. With limited resources and a need to move quickly, startups need to find innovative ways to attract and hire top talent. However, the technical interview process can be time-consuming and expensive, and startups may not have the resources to conduct interviews in person or over the phone. The need for a better technical interview process is clear, and HunchVue aims to provide just that.
Overview of HunchVue
HunchVue is an innovative platform designed to help hiring teams streamline their technical interview process. The platform offers a range of features, including:
Collaborative coding challenges: Candidates can showcase their technical skills through collaborative coding challenges, allowing hiring teams to evaluate their skills in real-time.
Whiteboarding sessions: HunchVue offers a built-in whiteboarding tool, allowing candidates to demonstrate their system design capabilities with ease.
Screen share: HunchVue's screen share feature allows candidates to share their screen with hiring teams, enabling them to demonstrate their coding skills and problem-solving abilities.
Live chat: The platform includes a live chat feature, enabling candidates and hiring teams to communicate in real-time during the interview process.
Code and video playback: HunchVue provides a code and video playback at the end of the interview, allowing hiring teams to review and assess the candidate's performance in real-time.
Interview Scheduling with Google calendar: Schedule interviews round the clock with HunchVue. With Google Calendar add on, you can even schedule the interviews on the fly.
Compiler Support for 35+ programming languages: HunchVue offers support for all major programming languages. Its powerful compiler helps in evaluating the overall coding skills of the candidate better.
Tagging: Jump to the specific section of the video interview playback with the tagging capabilities of HunchVue.
Innovative and Engaging Experience
HunchVue is not only a game-changer for the technical hiring process, but it's also an innovative and engaging experience for candidates. The platform's collaborative and interactive features provide a more realistic and dynamic experience for candidates, allowing them to showcase their skills in a way that better reflects the challenges of the modern workplace.
Benefits of Using HunchVue for Startups
Using HunchVue can provide several benefits for startups, including:
Time and cost savings: By conducting technical interviews remotely, startups can save time and money on travel expenses and venue hire.
Better assessment of candidates' skills: HunchVue's collaborative features and customizable workflows enable hiring teams to assess candidates' skills more effectively, leading to better hiring decisions.
Improved candidate experience: HunchVue's innovative and engaging platform provides a more realistic and dynamic experience for candidates
Video Interview playback: HunchVue makes it easy to find any mistakes or areas in which potential hires may need improvement
Don't let the technical hiring process be a headache for your interviewers. Try our collaborative coding & video Interviewing platform HunchVue today and take your hiring process to the next level.